Last week was an unexpected long and tedious week at SikhNet. You can blame or thank my wife whichever you prefer! It all started with a new electronic device in our office (The Amazon Kindle). My wife loves reading books, particularly before going to sleep. With her birthday coming up this weekend I was trying to think what I could get her for a gift, and decided on an Amazon Kindle (Don't tell her! She doesn't read my blog so hopefully doesn't know). For those of you who don't keep up with technology, the Kindle is a small little mini note pad size device that allows you to read books, in an electronic format. It's not back-lit like iPads, so easy on the eyes. Plus it uses what they call "e-Ink" which makes it just like reading a book. Battery life lasts weeks between charges! Everything is going digital….so no reason why our books would not be doing the same on a large scale! Lots of my friends love e-Book readers use them all the time. You can even "lend" books to friends just like you would a paperback.
Anyways… so after I bought the Kindle I had to figure out what I was going to put on it to get her started. She has been traveling more often and taking books, music, nitnem, and other devices I thought it would be great to simplify her packing and at least reduce her having to bring books and nitnem. Also, she has an ongoing Sahej Path (complete reading of the Siri Guru Granth Sahib broken over a period of time) so thought this would be another great way for her to continue this while she is away from home.
What I thought would be a quick process of putting the nitnem banis on her kindle turned out to be a larger project that took most of last week for myself and Gurujot Singh. I had started with Siri Guru Granth Sahib (original Gurmukhi and English translation) which was tricky since I wanted the pages to match the original Siri Guru Granth Sahib and also had to tackle with the issue of Gurmukhi text not displaying in traditional kindle/ebook formats. We then expanded on the format with some nice floral borders to make it more regal and look similar to the a printed SGGS. One of the days I had to go through all 1430 pages to correct some formatting issues. That was a tough day on my wrists, but the rewards are sweet!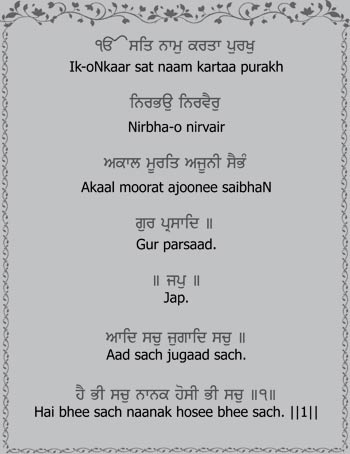 With that done we moved into working on Nitnem Banis. There are so many different formats that one could do for banis! Gurmukhi only, Gurmukhi with translation, transliteration, and different combinations of the three together or separate. Gurujot Singh created some beautiful custom floral design patterns that we experimented with for the borders. Since we had to create the files in the PDF format for Gurmukhi to display it was tricky finding the right size and layout to maximize the space on the screen and ensure that full pages displayed on screen. Then we had to spend lot of time adjusting the size of text and breaking the text up into nice readable "chunks" going through each line to ensure that it doesn't get broken up and flows nicely when reading. So by this past Friday we were done, and even though we wanted to do more banis and other formats we decided to just stop there and release the files on SikhNet and see how people liked them.
I don't even know how many Sikhs use eBook readers however expect that after today, many more will consider getting their very own "eGurbani Reader"!
Download Siri Guru Granth Sahib & Nitnem Banis
Custom Screen Saver Images for Kindle & other eBook Readers
As with any digital device that I get, I like to customize it and tinker to make it more personal. That is part of the fun and making it my own. On the Kindle when you stop reading for a while it switches from displaying your book text to it's screen saver mode which displays the standard kindle "screen saver" images. I wish they had made a simple standard method to change these images, but fortunately there is a simple "hack" that you can do to your Kindle to allow you to add your own custom images to display. Whenever someone looks at my Kindle with MY OWN cool custom images, they always ask, "How did you get your own images on the kindle?". It was very simple to do and only took a few minutes. Here is how you can "jailbreak" your Kindle. Follow the tutorial here. Once you have done this you can download and copy the screen saver pictures I made on to your Kindle.
I went through lots of my photos and picked out some that I then optimized for display on the Kindle. I thought you might enjoy downloading some of these to add to your eBook reader if you have one! I left out most of the family pictures that I made and left most of the more general Sikh related ones to share. I doubt you want to have pictures of our family, Narayan and Charanjeet all over your kindle. :) See how nice and portable the e-Reader is?
Samples of what the pictures look like on the Kindle 3
Preview of Sikh Screen Saver Images Available for Download
Click on the picture below to see a larger version of the below "collage"
Download Collection of Sikh Pictures for Kindle Screen Saver
For those of you who love and appreciate the inspiration of SSS Harbhajan Singh Khalsa (Yogi Bhajan) you can download some pictures/paintings of him (for personal use only on your Kindle or eReader).
Download pictures of SSS Harbhajan Singh Khalsa (Yogi Bhajan)
Other Sikh Related Free Downloads for eBook Readers
Kindle Tips/Info I found Useful