Posted by
Gurumustuk Singh
on Aug 14th, 2008 in
General
|
3 comments
One of the main goals of SikhNet (since it's inception on the web in 1995) was to provide resources for our youth/children. So that they have the tools and resources to become more spiritual individuals; able to cope with life in these modern times, yet being strong in their identity as a Sikh.
Here at SikhNet we have worked hard over the years with our modest resources to meet the needs of the community. There is always a need to expand and grow the services on SikhNet as well as continue to maintain the existing ones.
We are currently planning a brand new section for SikhNet which will be oriented towards younger Sikh children (around 5-12 years old). Every week we plan to produce 1-2 new and original audio stories told by a select few dynamic storytellers.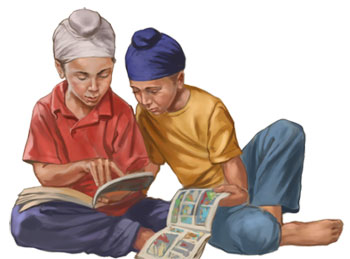 Many of us who are parents know the challenge of educating our children about Sikhi, which can be hard in these busy times where it is common for both parents to work all day away from the kids. Many have less and less time to spend with their children (partcularly to teach them about Sikhi). Our plan is to assist in this situation by creating new ways for these young ones to get inspired and into Sikhi through stories. I know as a parent I would rather have my kids listening to fun and interesting Sikh/Spiritual stories then playing a video game or watching television! There is currently not very much Sikh media content freely available for kids, and our hope is to fill the need and start with this one project, and then expand into other projects as resources become available to fund the projects.
For the story project, the content of the stories will vary. Some stories will be straight from Sikh History, and others might be more modern in nature (like stories of being different, and overcoming the challenges/responsibilites of being a Sikh). Some stories might be more general in nature with a lesson or moral about being a good person and being spiritual.
The new audio story section will be organized so that you can browse through the different stories in lots of different ways. You'll be able to listen to the stories right on the website or download them freely to your computer or MP3 player. We also plan to make the stories available on audio CD so that non-technical people can also enjoy them in their home and in the car when traveling.
In addition to this story project we have lots of ideas for new media services targeted towards the younger youth. However, in order to make them happen we need your help. These projects take significant time and money.
For this first project our goal is to raise between $5,000 and $10,000 to cover the costs (computer programming, artwork, server hosting, equipment, etc). YOU can play a big part in making this new project a success by making a donation to SikhNet in any amount.
We welcome any individuals, organizations, Gurdwaras, companies, etc. who might like to sponsor/support this project, to ensure that it is a success and so we can continue to create new services like this for Sikh kids.
If you are not able to help financially then you can still help by talking to everyone that you know and encourage THEM to do so. Forward this email with your comments to anyone you know who might be able to help. SikhNet is able to offer the many free services with YOUR support, so whatever help you can give will impact the many thousands of people that use Sikhnet every single day!
Feel free to contact me directly (telephone: +1.505.629.4697 or Email) if you have any questions regarding the project or want to help in some way.
Sincerely, Gurumustuk Singh Khalsa