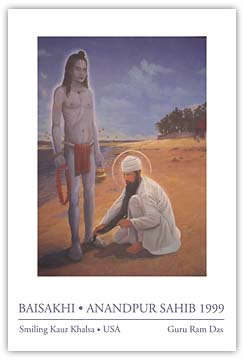 Every day till Guru Ram Das Ji's Gurpurb someone in our community here in Espanola is telling a story about Guru Ram Das.
Here is a story that was told by Shanti Kaur Khalsa about Guru Ram Das Ji and Baba Siri Chand (Guru Nanak Dev ji's Son), as well as encounters with other Yogis and what Guru Ram Das ji taught them. Click on the play button below to listen to the story.
Pictured Right is a painting depicting part of the story of Guru Ram Das Ji wiping the feet of Baba Siri Chand with his beard. The picture was printed along with 107 other artworks during the 1999 Baisakhi celebrations.
[Audio:http://www.mrsikhnet.com/mp3player/stories/guru%20ram%20das%20and%20the%20yogis%20-%20told%20by%20shanti%20kaur%20khalsa.mp3] Download